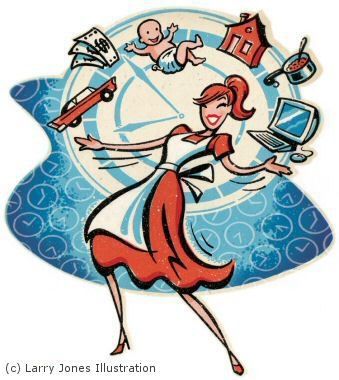 A fellow blogger in my Cafe Mom group Blogging Moms recently asked:
I also love to organize, but unfortunately there never seems to be enough time, and I only have one child.
So how do you find the time???? Great blog!
-------------------------
Michelle
After reading Michelle's Question I decided to do a Q & A each week, providing that I get questions either via my Cafe Mom Blogging Moms group or via other blogging mommies. I will answer almost any questions...if I feel that they are objectionable or too personal, I will let you know but the questions do not have to relate exclusively to organizing, de-cluttering, etc.
Organizing is a hobby for me, much like scrapbooking (this is also a hobby of mine) so I pick a project & set aside time to work on it. I usually try to think about what I want to do & plan it out before I jump in. If I want to spot organize my kitchen cabinets, I will often do it while dinner is cooking since I am already in the kitchen. I may only organize 1 or 2 cabinets but I have accomplished something during that time. Some of my organizing projects take several days where I have to go back to finish or tweak it. I sometimes do it in 15 minute intervals, y
ou can organize a lot in 15 minutes....for example in 15 minutes you can do any one (or more) of the following:
clean out & organize your purse (I sometimes do this while sitting in a waiting room or in the drive-thru at the bank if there is a long line)

clean out 1 junk drawer

organize 1 kitchen cabinet

sort through a pile of magazines, catalogs & newspapers

sort mail, shred paid bills & junk mail

update your calendar with bill due dates & appointments

clean old food out of your fridge

plan your weekly menu for your family

check & delete emails...ie. clean out your email in box

straighten up your entryway closet

straighten a dresser drawer
Remember to set a timer for 15 minutes! You will be amazed at what you can accomplish in 15, imagine what you can do if you can set aside 30 minutes! Always remember though...set the timer!!!